Helmut Körnig Halle ( english Version)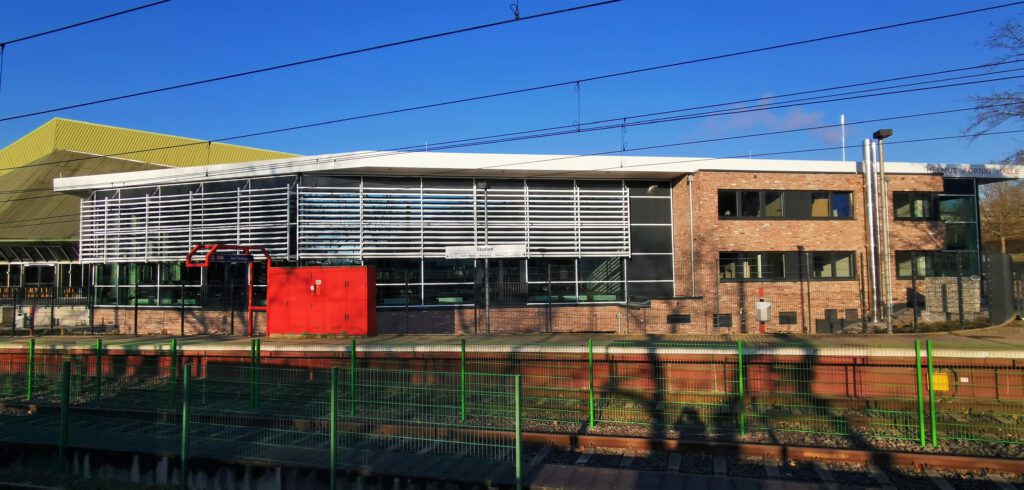 Helmut Körnig Halle
conversion | new construction | renovation
Construction Phase 1
Conversion of the existing Track and Field Arena (Year of Construction 1978-1980)
March 2019 – December 2019
Terraces, Stands and Circulation Areas: 4.600 m²
Sports Area: 7.400 m²
The objective of the construction project was to expand the four circular running tracks (200m track and field) to six tracks, while maintaining the existing spectator capacity (3,500 seats and 1,500 stands), in order to meet the requirements for national and international competitions. This involved a complete gutting of the existing installations.
The redesign of the stands was intended to meet all sporting and organizational requirements, inspite of the extension of the circular tracks. This was accomplished by opening up the area beneath the stands for athletic use as well. Furthermore, the stands were to be connected to the newly built annex.
A new coloring concept ensures that the arena appears brighter, more light-flooded, and also larger. Instead of the dominant green, the yellow seating shells and the stronger contrasting arrangement of the sports areas, in conjunction with the new lighting system, now determine the new, open and friendly atmosphere.
As the arena is used for sports during the winter months (preparations for Olympic Games etc.), the construction period was limited to the summer months of April to October. Hence, the deconstruction work started in the last week of March 2019. After six months of construction, the indoor area could be reopened for sports use on schedule in October 2019.
Construction Phase 2
New Construction
January 2020 – January 2021
Boxing Center (intensive training center): 400 m²
Multi-Function Space, Lobby and Utility Rooms: 1000 m²
Since the construction of the hall – in the late seventies – representative areas that could accommodate the public, athletes and sponsors, during, before and after major events were missing. In addition, a seminar room and a lecture room were missing. Both are indispensable for use as Leistungszentrum Leichtathletik (intensive training center for field and track), outside of regular arena use. A representative foyer was also not available. Administration, catering kitchen, meeting rooms, press center, toilets for the disabled, showers and locker rooms were no longer up to today's standards.
For years, the Boxleistungszentrum Dortmund (intensive training center boxing) had been housed makeshift – and not satisfactorily for all concerned – on the upper circulation areas of the Helmut Körnig Halle.
In connection with the internal reconstruction of the arena (construction phase 1), our office was tasked, to build a head building on the remaining plot, between the above-ground subway (tributary to the Signal Iduna Park BVB) and the Helmut Körnig Halle, which can meet this space program with a tight budget, without losing the character of the arena, neither from the outside nor from the inside.
Construction Phase 3
Renovation of the Santitation Areas
August 2020 – December 2020
Sanitation Area 300 m²
The locker rooms, the showers, and the toilets were renovated during ongoing operations. This was made considerably more difficult not only by the ongoing training operations, but also by the international Champions League games for women's handball, taking place in the arena during this construction phase.